[READY TO POP] Maria K "Starbucks Smile" (Produced by The Stereotypes)
Maria K's sweet and charming "Starbucks Smile" poignantly captures that unexpected moment of meeting a passing stranger and flashing a smile only to never see that person again. The song is about that instant connection between two people that may happen when they least expect it -- whether it's at a Starbucks counter, a grocery aisle or airport security line.
The emerging Pennsylvania pop singer captures the the driving emotion behind "Starbucks Smile" with the help of seasoned producers The Stereotypes. The GRAMMY winning soundboard trio is mostly known for their work with Far East Movement, Justin Bieber and Fantasia, but in their mighty Los Angeles sound lab they are also developing a few exciting upstarts.
"Starbucks Smile" has The Stereotypes' distinct fingerprints all over it. It's a crispy production with subtle electro-pop leanings that puts Maria K's lyrics and distinct delivery front and center. It's a tightly packaged sound that has instant radio appeal.
The video for the song shows Maria K chasing down the man of her dreams by following a balloon all across town in scenes that were inspired by the French short film, "The Red Balloon." Watch the video after the break.
June 23, 2011 in Ready to Pop, The Stereotypes | Permalink
Listen to The Stereotypes "Lego"
GRAMMY-nominated production trio The Stereotypes is once again heating up the scene with some exciting new music that comes along with some colorful, cheeky cover art. The Stereotypes' Jon, RayRo and Jeremy have their fingers tightly on the pulse of what's hot and happening in music today, combining distinct pop sensibilities with crisp hip hop grooves that is tightly produced and hyper-infectious. They're also some of the nicest guys in the business with a genuine love for music.
The L.A. based trio has crafted hits for artists like Danity Kane, Ne-Yo, Justin Bieber, Melanie Fiona, Natasha Bedingfield, Justin Bieber and Chris Brown. They have also been an instrumental part of the success of Far East Movement as executive producers of "Free Wired." They even cameo on "Girls On The Dancefloor," which is one of the most finely-produced cuts I've head in the last year (Pick up a good pair of headphones to hear every little sonic twist and turn on that track.)
But even tough The Stereotypes are passionate about writing and producing for other people, they have been eager to satisfy their creative urges to release their own artist material. And that moment has finally arrived this week.
The Stereotypes added MC Three to complete their line up as a band and they released their debut single single "Lego" on iTunes this week. Paced by a hypnotic, laid-back beat, "Lego" brings a whole lotta swagger and sexy to dancefloor that will get the party started the second it hits. This piece of "Lego" will snap right on. Guaranteed. 
Listen to the track right here. (Support new music and download "Lego" on iTunes.)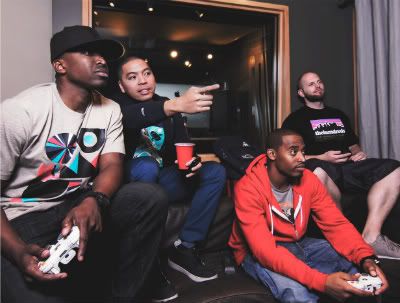 April 20, 2011 in The Stereotypes | Permalink