Free MP3 Download: Garcon Garcon "Stay In Touch" (Son of Vader Remix)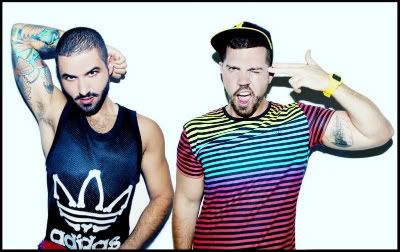 Garcon Garcon is a fresh new electro pop duo from Sydney, Australia who are stirring up the indie pop scene with their excellent debut single "Stay In Touch." Inspired by '80s synth pop and new wave, the group is the teaming of Nathan (vocals/guitars) and Nick (synth/programming) who combine meaningful, relatable songswriting, catchy melodies and a dose of spunky Aussie charm to craft their own peppy blend of forward pop.
"Stay In Touch" is a great example of their knack for songwriting. "The track is really a very personal break up song," Nathan writes me. "It documents the break down of a relationship. Feeling as though something isn't right, but hesitating to make a decision, not wanting to be alone. Questioning whether a relationship is ever perfect or if you need to compromise and work through your differences to make it work."
He adds, "The lyrics are quite serious for a dance song! We quite liked the contrast."
Son of Vader's lush, slow-churning revamp of "Stay In Touch" neatly nuances and accentuates the intensely personal story of love and letting go that is told in the song. Grab a totally guilt-free and exclusive MP3 of the remix. These two bad-ass Aussies are currently putting the final touches on their EP. Stay tuned for more details soon.

Garcon Garcon "Stay In Touch" (Son of Vader Remix)
May 8, 2011 in Garcon Garcon, MP3, Ready to Pop | Permalink
Ready to Pop: Colette Carr "(We Do It) Primo"
Colette Carr is a true social media phenomenon. Without any big marketing budget or advertising push, the spunky California singer and MC has built up a steady fanbase by simply engaging with fans one on one on Twitter, Facebook and her web site to spike interest and fuel word of mouth about her music.
As a result, Carr has not only garned thousands of loyal fans who follow her every move, she has also been noted by the music industry at large. Ever since its inception, Carr has been hovering at the top of the new Billboard Uncharted chart, a countdown of emerging new artists that is put together by the music publication
Over the past year, Carr has been working with people like Cherrytree Records chairman Martin "Cherry Cherry Boom Boom" Kierszenbaum, Pharrell and Frankmusik to finetune her sound.
What makes Carr truly stand out from the pack is that she's a great example of successful artist development. Instead of a rush to market or fluffy hype, there's proper nurturing of her unique talents to carve out a niche in the pop universe that she can fully own. "Keeping it hush, can you keep it on the low," as Carr likes to say, indicating that it is better to wait to have her sound mature and thrive than to be tempted to go at it too early.
When I spoke with Frankmusik back in October, he was excited to be working with Carr. "I'd like to turn her into the female Frankmusik," he noted. I wasn't sure what to exactly make of that statement without hearing any music, but after listening to Carr's new "(We Do It) Primo" I know exactly what he means.
Produced by Frankmusik, "(We Do It) Primo" is Carr's formal debut single that was released last night. Pop aficionados among you will immediately recognize the sample of Keane's evergreen tune "Somewhere Only We Know" that Frank and Carr incorporated into the track. 
Colette Carr's "(We Do It) Primo" is a fresh, finely produced and hyper infectious slice of pop that highlights her care-free attitude, and has her sunny Malibu personality splashed all over it. It's time for more people to discover Colette Carr and "(We Do It) Primo" fully delivers.
April 27, 2011 in Colette Carr, Ready to Pop | Permalink
Ready to Pop: Daylight Trade "Stars"
Nashville is not only the home of some of the finest in country music, there's some fresh and exciting new pop originating from the middle of Tennessee as well. Point in case is Daylight Trade that is the teaming of Aaron Michael and Marcus Vaughn.
Craftfully produced and masterfully written, Daylight Trade's music combines vivid melodies with a heartfelt delivery that has a lot of artistic value to it.
The escapist "Stars" is a good example of Daylight Trade's pop sound. It's an uplifting pop track about falling in love and living in the moment that is set to a grooving, laidback rhythm section. "Maybe it's crazy, but maybe it's just what's right. We can shoot for the stars, they ours tonight I'm sure," Michael sings. The equally crisp pop tune "Digital Soul" reveals some of the group's gloomier hues.
"My main inspiration for our music was the feeling of it. I was tired of being in pop groups that had good songs but, no one could move to," Michael writes me. "I think that my idea of a great live show is where the fans spend more time interacting with the music than the artists themselves."
He explains, "There are two sides to our music, a darkside and a lighter side. Sort of a Jekyll and Hyde scenario. People have referred to us as 'Maroon 5 meets Muse.'"

Daylight Trade "Stars"


Daylight Trade "Digital Soul"
April 8, 2011 in Ready to Pop | Permalink
Ready to Pop: Zander Bleck "Bohemian Rhapsody"
Zander Bleck. Remember that name. He's a massive new star on the horizon that you should know about now because it will only be a matter of time before he will be storming up the charts in a big, global and mighty way.
The charismatic New York pop rocker is turning heads with his enigmatic personality and chart-savvy sound that is dominated by his larger than life rock vocals. I had a lunch with Zander and his team during GRAMMY weekend and I was immediately struck by his passion for great music and poise to deliver something fresh to scene.
Bleck has that spark and swagger that stars are made of. And most importantly, he has the music to back up his promise.
Zander's rock-edged and tightly produced brand of pop is courtesy of none other than GRAMMY nominated songwriter and producer Red One. As most of you pop heads know, Red One has been a driving force behind the careers of people like Lady Gaga and Kat DeLuna, and more recently he has been penning hits for Enrique Iglesias, Jennifer Lopez and Usher. 
Red One is building out his pop empire and has been developing three artists: Mohombi, Porcelaine Black and Zander Bleck. Mohombi is coming on strong with "Bumpy Ride" in different parts of the world, and the music of Black and Bleck will be unleashed upon the mashes very soon.
Head over to Vevo to see Zander Bleck perform an impromptu version of Queen's "Bohemian Rhapsody," a legendary tune that Bleck confidently makes his own. And I promise you, this is only the beginning. Also, check out a preview of "Temptation," one of his original tracks that was produced by Red One. Super catchy stuff. Zander is an artist to believe in. He's here to stay. 
March 25, 2011 in Ready to Pop, Zander Bleck | Permalink
Ready to Pop: Brandur "The Illusion Of"
Those savvy Swedes just continue to crank out some mighty pop. Point in case is Brandur's brand-new single "The Illusion Of" that I first introduced you to last month. The song is a ferociously infectious pop tune with a glittery chorus (with Brandur rocking the falsetto) that is simply too irrisisteble to be denied. The song was co-written by Brandur and up and coming Swedish producer Maria Marcus. 
Born and raised on the lush Faroe Islands, Brandur is known mostly to Swedes for being a contestant on Sweden's popular Melodifestival in 2008 in the hopes to qualify and represent the country for the Eurovision Song Contest.
Despite the fact this his performance of "Lullaby"  did not make the final round of the song challenge, his high-profile stint opened new doors and opportunities, including a leading role on the Swedish version of High School Musical. 
Now signed to Sofo Records/Universal Music Sweden, Brandur has set his sights on international success and "The Illusion Of" is a first taste of what's to come. European release dates are being firmed up, but Swedes can download the song on iTunes now. 
February 2, 2011 in Ready to Pop | Permalink