[EXCLUSIVE] Listen to Neon Hitch "Bad Dog" (DiscoTech Remix)
After creating a stir with tracks like "Get Over U" and "Silly Girl," our fave Neon Hitch is about to serve up her flaming hot and much-anticipated new single "Bad Dog" that will be released later this summer. This banging new Neon tune will slam the door wide open to mainstream success and firmly put her in pole position to race up the charts.
Produced by her talented soundboard pal Benny Blanco, "Bad Dog" is a powerhouse tune that has all the makings of a massive hit that will have you wagging your tail the moment it hits.
Blanco's savvy production is dominated by a tight, slapping groove and an instantly catchy chorus that perfectly complement Neon's deliciously flirty lyrics. She purrs, "The beast inside of me put you down, bang bang, like a bad dog. You're just animal that I caught, come inside my cage, you bad dog!" 
Add to that hot mix the instantly infectious "oooh oooh" and "aaah aaah," and what you have is a dynamite brew of pop. Yeah, this sweet kitten is finally out of the bag and has a big bone to pick. Don't mess with her because you will end up in the dog house. Neon agrees and clarifies, "say a prayer, because this is it." True that. 
Check out a blazing dancefloor workout of "Bad Dog" that was produced by DiscoTech to get a taste of the song. DiscoTech's full-throttle number stays pretty close to the original but gives it a solid dancefloor punch. Go fetch this hotness!
July 13, 2011 in Benny Blanco, Neon Hitch | Permalink
[VIDEO] Cherrytree Pop Chop Interview with Arjan Writes featuring Neon Hitch
Neon Hitch is one of the most exciting new pop artists to hit the scene this year. I first alerted you about the singer back in 2008 when I posted a free download of "My Book." After giving us a taste of her catchy pop with "Get Over U" (that she co-wrote with Sia), Neon is now getting ready to release her new single "Bad Dog" that is taken from her upcoming debut LP "Beg, Borrow And Steal."
Born to a family of gypsies in the U.K., Neon Hitch lived the life of a true free spirit. The young globetrotter spent her early years in a traveling circus with her family. This little dare devil nurtured her inner performer early on as trapeze artist and fire swinger all across Europe. 
After being Amy Winehouse's flatmate in London for a little while, she moved to the U.S. and ended up meeting producer Benny Blanco. The two forged a powerful songwriting partnership and not only collaborated on Neon's tracks, but also wrote for Ke$ha together. Hitmaker Kara DioGuardi acknowledged Neon's talent and signed her to Warner Brothers Records to start performing her own music. 
I caught up with Neon in Austin, TX at South by Southwest to talk a little bit more her forthcoming new single, working with Sia and her unique upbringing. Totally fun and loving the hat! Expect big things from Neon Hitch.
June 23, 2011 in Neon Hitch | Permalink
Free MP3 Download: Neon Hitch "Silly Girl" (BOY BOY Remix)
I alerted you last week about Neon Hitch's excellent new single "Silly Girl" that the emerging British pop star co-wrote with Switch who previously collaborated with people like M.I.A. and Beyonce.
"Silly Girl" was produced by hit man Benny Blanco who added his signature spit and polish to the track to create a fresh and forward pop tune.
Check out a remix of "Silly Girl" that was produced by electro wizard BOY BOY who turns Hitch's blazing original into a top-notch remake that is ruled by tight, punctuating beats to keep the energy up, up, up.
BOY BOY is a soundboard talent to keep your eye on. He is a man on the move who had produced remixes for people like Britney Spears, Spank Rock, Taio Cruz, and Ke$ha, while also collaborating with producer/writer Charlie Xcx, Dan Black and Chris Sorbello (Ministry of Sound) as a writer/producer.

Neon Hitch "Silly Girl" (BOY BOY Remix)
May 7, 2011 in MP3, Neon Hitch | Permalink
Listen to Neon Hitch "Silly Girl" (Easy Does It Remix)
Kick your day into gear with this blazing hot remix of Neon Hitch's new single "Silly Girl" that was produced by the crafty soundboard wizards of Easy Does It. It's a fun and forward new interpretation of Neon's original track that comes with a fresh new dancehall meets electro twist. Big new sound for a big new artist. Loving this.
April 30, 2011 in Benny Blanco, Neon Hitch | Permalink
Listen to Neon Hitch "Silly Girl"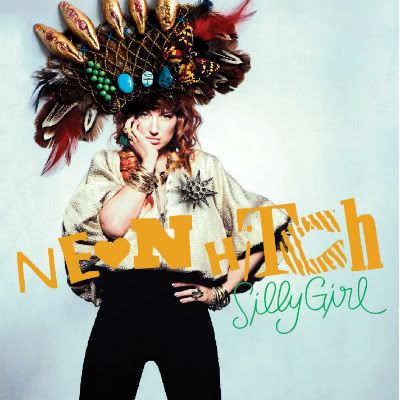 What I love about Neon Hitch is that she's not afraid to think outside of the box and try something different. After the bittersweet balladry of her debut single "Get Over U" (that Neon co-wrote with Sia), the adventurous pop star now takes her sound left field with her new single "Silly Girl" that premiered yesterday on Idolator.
Produced by Neon's capable soundboard pal Benny Blanco, "Silly Girl" is a flaming slice of high-grade, futuristic pop that Neon co-wrote with none other than Switch who previously wrote hits for Santigold, Bjork, Mika and Christina Aguilera. This new Neon track shows off once again that the pop chameleon is ready for the big time, perfectly mashing her fresh, confident delivery with potent, hip hop-tinged club beats.
April 26, 2011 in Benny Blanco, Neon Hitch | Permalink