[VIDEO] Janelle Monae Rocks Out at Glastonbury
Atlanta singer Janelle Monae rocked Glastonbury with an amped up set of 12 songs at the festival's West Holts Stage on Saturday. Her performance led to a firestorm of tweets and word of mouth that pushed her LP "The ArchAndroid" into the top ten of Amazon.com showing a 4,298% (!) sales increase, the largest of any artist that performed at the festival. Watch Janelle do what she does best after the break with her stunning performance of "Come Alive."
June 28, 2011 in Janelle Monae | Permalink
[PHOTOS] Janelle Monae and Bruno Mars at The Pearl Theater in Las Vegas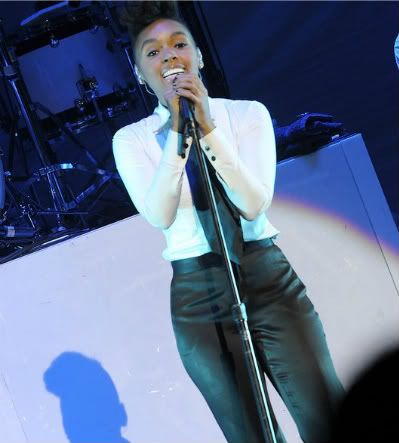 Janelle Monae and Bruno Mars are still going strong on their Hooligans In Wondaland Tour that made a stop at Las Vegas' Pearl Theatre late last week. Check out some exclusive photos of Janelle and Bruno rocking out the new soul after the break.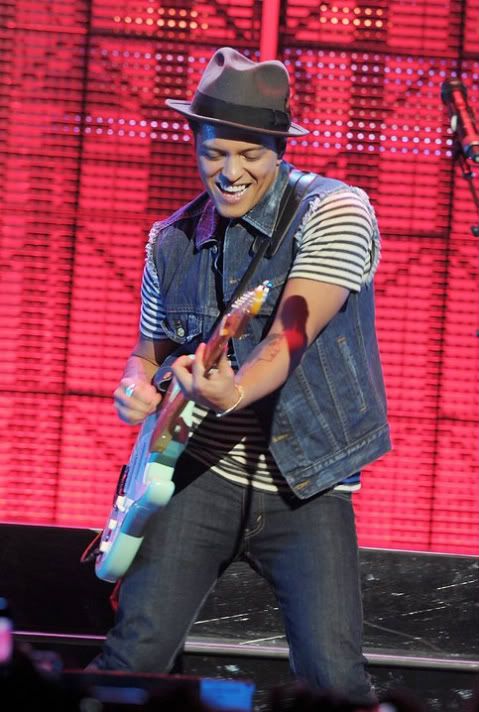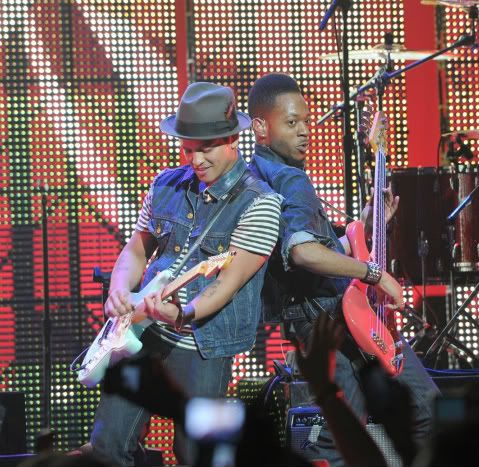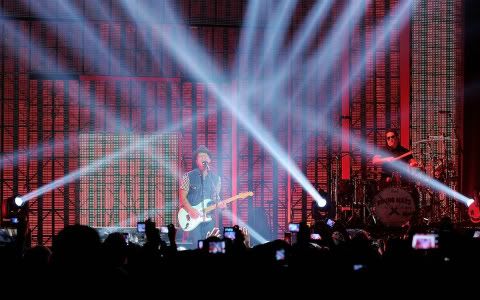 June 23, 2011 in Bruno Mars, Janelle Monae | Permalink
Janelle Monae and Karl Lagerfeld in W Magazine Photo Shoot
ArjanWrites.com fave Janelle Monae is photographed alongside iconic fashion designer Karl Lagerfeld in a spread feature in the new issue of W Magazine. Monae and Lagerfeld stand side by side in neatly pressed black and white, and chat about their friendship and the meaning of fashion in music.
Monae says about her distinct style and sense of fashion, "It's transcendent. It never goes out of style." She adds that she wants color to come out in her performance, not in her fashion. Largerfeld adds, "We liked each other from the first second on. not just because of our style, but also the name - Janelle rhymes with Chanel no?"
June 14, 2011 in Janelle Monae | Permalink
Watch Janelle Monae and Bruno Mars Backstage at Custome Institute Gala
Check out some candid footage of rising stars (and tour mates) Janelle Monae and Bruno Mars while they are are preparing to attend the annual Costume Institute Gala at the Metropolitan Museum of Art in New York City for the very first time. Janelle Monae stays true to form and dresses impeccably, and Mars combines black-tie chic with his signature swagger. Fun little video to watch on Vogue.com.
May 19, 2011 in Bruno Mars, Janelle Monae | Permalink
Photos: Bruno Mars and Janelle Monae Hanging Proudly Together
I spent some time at the Atlantic Records headquarters in New York City last week. Good to see all of their great talent prominently featured everywhere around the office, including my faves Bruno Mars and Janelle Monae who were hanging proudly together. Makes me hope that a collaboration will happen one day soon.
September 2, 2010 in Arjan, Bruno Mars, Janelle Monae | Permalink