Sights & Sounds: Getting Free Wired in Downtown Los Angeles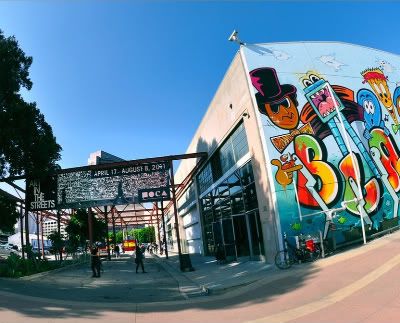 Downtown LA is free wired: Geffen Contemporary Museum
Before heading to Musexpo and speaking at the Worldwide Radio Summit last week, I spent some time in downtown Los Angeles to explore a part of the city that too often gets overlooked. My renewed interest in downtown Los Angeles was sparked by Far East Movement's "Free Wired," the group's debut record that was inspired by the group's downtown upbringing and friendship.
At times gritty, often breathtaking and always colorful, downtown Los Angeles stretches from Koreatown in the northwest to the concrete banks of the L.A. river in the east. The area lost some of its luster in past decades after its heyday in the 1920s, but in recent years it has gone through an urban renaissance with young hipsters, culture hustlers and other urban adventurers moving into the large loft spaces that can be found all over downtown.
The arrival of new museums, galleries, clubs and bars has helped accelerate downtown's resurgence, making it a perfect breeding ground for everything hot and happening. 
It's exactly that colorful urban spirit that Far East Movement's "Free Wired" taps into. The group's all-inclusive, free wired mashing of styles to create an edgy, yet mainstream-friendly aesthetic was inspired by their downtown upbringing and is now reflected in their music, look and artistic attitude. 
For my stay in downtown Los Angeles, I stayed at the Hilton Checkers, an excellent boutique style hotel right in the middle of downtown that I highly recommend if you are looking for comfortable and friendly lodging.
Stroll up the street from the Hilton to check out the magnificent LA Philharmonic's Walt Disney Concert Hall that was designed by architect Frank Gehry. I zigzagged through the quiet streets of Chinatown to the Moorish splendor of Union Station that is filled with transients from all over the country. From there, I walked down Alameda Street towards the vibrant Little Tokyo district on downtown's eastside.
An absolute must for pop culture fanatics is Little Tokyo's Geffen Contemporary at MOCA, a large modern art space that is currently hosting an exhibit about Arts In The Streets. Yes, even Geffen is feeling "free wired."
Far East Movement got wind of my downtown explorations and tweeted me some of their favorite hang outs, including Taco House 1, an authentic Mexican taco stand that serves a large menu of tasty tacos and burritos.
Right next door is La Cita where Far East Movement shot the video of "If Was You (OMG)." I can best describe the look of the bar as a folky Mex mix with a cool kitchy, disco twist. Amazing scene of people.
If you're ever visiting Los Angeles, I highly recommend you take some time to explore downtown Los Angeles. Discover downtown's bleeding edge and cultural innovations that I find frankly a whole lot more exciting than the city's regular tourist destinations. Get a head start by watching "Rocketeer (LA Dreamer)," a short film Far East Movement produced as an ode to their hometown.
A big thank you to Hilton Hotels for their hospitality and a jumpin' high-five to the guys of Far East Movement for pointing out some of the sites and giving me that "Free Wired" feeling.
May 10, 2011 in Arjan, Far East Movement, Sights & Sounds | Permalink
Far East Movement to Tour with Lil Wayne - Listen to New "If I Was You (OMG)" Remix by Disco Fries
Far East Movement is on fire. The downtown LA group is currently in the middle of their Free Wired college campus tour and announced today that they will continue to tour across North America this summer. FM will hit the road with Lil Wayne for the second leg of the I Am Music Tour kicking off July 13 in Hartford, CT at the Comcast Theater. (Click here for all the tour dates.)
The group's Kev Nish, Prohgress, J-Splif and DJ Virman will join Rick Ross, who supported on the first leg, along with tour newcomers, GRAMMY nominated Keri Hilson and R&B vocalist Lloyd.
Far East Movement will be playing tracks from their debut album, "Free Wired," including their new single "If I Was You (OMG)" that features Snoop Dogg. The single has climbed steadily at top 40 radio reaching #44 this week. Check out a blazing remix of the track in the player below that was produced by Disco Fries. It's an FM dancefloor slayer.
I saw Lil Wayne on tour with Nicki Minaj, Rick Ross, Travis Barker and Porcelain Black a few weeks ago and was thoroughly entertained. Even though some of you may not be big hip hop fans, I highly recommend you score some tickets to this show. Weezy is an electric performer and Far East Movement knows how to stir up the party with their mighty brew of dance, pop and hip hop. Good times guaranteed.
May 9, 2011 in Far East Movement | Permalink
Video Premiere: Frankmusik "Do It In The AM" feat. Far East Movement
Here it is! Watch Frankmusik's entire new video for "Do It In The AM" that features his pals and label mates of Far East Movement. The video was filmed over the course of three days across Southern California and perfectly captures the fast-moving energy of the song. The Cali look and feel of the video also is a bit of a tribute to the singer's last 18 months in Los Angeles that helped him to recharge and write lots of new material. Stay tuned for Frankmusik's video commentarty that he and I filmed in the Cherrytree House yesterday. Watch do you think of Frank's new video. Let's discuss.
May 4, 2011 in Far East Movement, Frankmusik | Permalink
Frankmusik "Do It In The AM" feat. Far East Movement on iTunes Now
Pop lovers across America should do themselves a big favor and head to iTunes right now to download Frankmusik's new single "Do It In The AM." After giving us a taste of his evolved sound with "The Fear Inside" earlier this year, "Do It In The AM" is marked as Frank's official new single that is the title track of his forthcoming sophomore LP.
Today's single release is a moment that has been long in the making and is a reflection of Frank's journey over the past 18 months. "Do It In The AM" is an excellent new pop effort that features his labelmates (and good friends) Far East Movement, which introduces a polished, radio-ready sound that is fresh and forward yet distinctly Frankmusik. (Support new pop and download Frankmusik "Do It In The AM" it on iTunes or Amazon.)
May 3, 2011 in Far East Movement, Frankmusik | Permalink
Listen to Frankmusik feat. Far East Movement "Do It In The AM"
Yes, ladies and gentlemen. The cat's out of the bag and there's nothing that can stop this mighty hit tune from happening.
Not only did we get a peek at the artwork for Frankmusik's new single "Do It In The AM" exclusively at CherrytreeRecords.com this morning, the full radio edit of the track plus a bunch of remixes have now been unleashed as well. And oh yes, it has been worth the wait. "Do It In The AM" is fingerlickin' good, so all you pop heads better get ready for a dose of sweetness.
Featured on the track are Frank's label mates Far East Movement who add some punchy rhymes to the song. As earlier indicated by the "The Fear Inside" and now again by "Do It In The AM," Frank's new "American pop" sound is a lot more compact and more tightly produced compared to his work on "Complete Me." But fear not. This new work is a signature slice of Frankmusik's brand of prog pop, featuring his pitch-perfect delivery, the Frank falsetto and his pop playfullness that make him a pop star unlike any other.
Co-written by Martin "Cherry Cherry Boom Boom" Kierszenbaum, "Do It In The AM" is as a massive summer jam with an instantly catchy and sparkly melodic hook. The line "A to the M and then we do it again" dominates the track and is a lyric to remember because you will be singing it along often in the months to come.
April 20, 2011 in Cherrytree Records, Far East Movement, Frankmusik | Permalink