[PHOTOS] Bruno Mars Does L'Uomo Vogue Magazine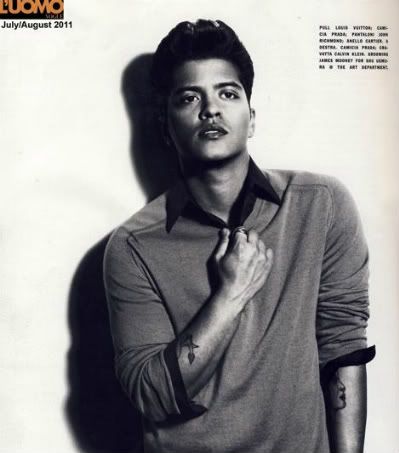 A very stylish, chic and classy Bruno Mars sizzles on the pages of the current issue of L'Uomo Vogue in Italy. In the article that goes along with the timeless photography, Mars talks about his meteoric rise to fame. "Two years ago I was just playing in bar and clubs. Now I play arenas. I even played the boxing statium where Muhammad Ali beat Joe Frazier back in the day. It's crazy." Peek at the Bruno Mars' L'Uomo Vogue fashion spread after the break.
June 28, 2011 in Bruno Mars | Permalink
[PHOTOS] Janelle Monae and Bruno Mars at The Pearl Theater in Las Vegas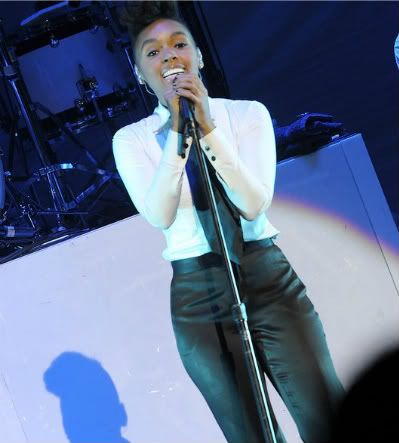 Janelle Monae and Bruno Mars are still going strong on their Hooligans In Wondaland Tour that made a stop at Las Vegas' Pearl Theatre late last week. Check out some exclusive photos of Janelle and Bruno rocking out the new soul after the break.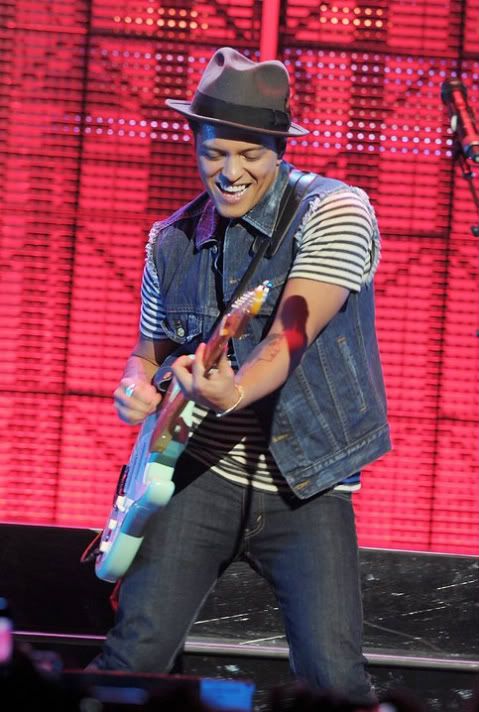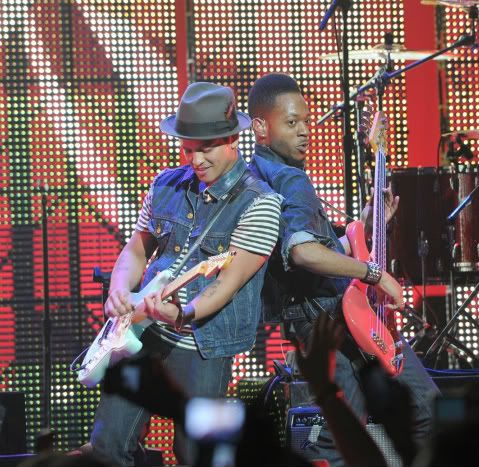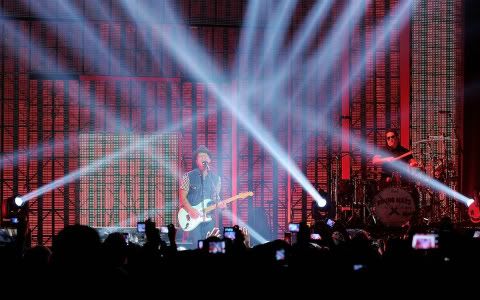 June 23, 2011 in Bruno Mars, Janelle Monae | Permalink
Watch Janelle Monae and Bruno Mars Backstage at Custome Institute Gala
Check out some candid footage of rising stars (and tour mates) Janelle Monae and Bruno Mars while they are are preparing to attend the annual Costume Institute Gala at the Metropolitan Museum of Art in New York City for the very first time. Janelle Monae stays true to form and dresses impeccably, and Mars combines black-tie chic with his signature swagger. Fun little video to watch on Vogue.com.
May 19, 2011 in Bruno Mars, Janelle Monae | Permalink
Exclusive Photos from Bruno Mars Official GRAMMY Party
Bruno Mars had a lot to celebrate this week. The young singer has had an amazing year and was up for seven GRAMMYs, including two nods in the coveted Record of the Year category. He was also nominated in the Producer of the Year category together with his pals of The Smeezingtons. The singer celebrated his amazing year this past weeked together with a lot of friends, including Janelle Monae, Keri Hilson, Monica, Far East Movement, Brandy and many others. (See photos from the event here.)
February 15, 2011 in Bruno Mars | Permalink
Bruno Mars Premieres Video for "Just The Way You Are"
ArjanWrites.com fave Bruno Mars finds a whole new use for the good 'ole cassette tape in the video for "Just The Way You Are." Following his success with "Billionaire" and "Nothin' On You," this sugar-coated ballad is steadily climbing up the charts and hit number one on the iTunes singles chart earlier this week. 
Mars has a lot more grit and swagger on his sleeves than this debut single may lead you to believe, but Atlantic Records' clever A&R folks did a fine job identifying a single that fits the current mainstream taste, and that will solidly position Bruno Mars as one of pop's most exciting new male artists. Watch the entire video for "Just The Way You Are" after the jump.
September 9, 2010 in Bruno Mars | Permalink