[EXCLUSIVE] Listen to Neon Hitch "Bad Dog" (DiscoTech Remix)
After creating a stir with tracks like "Get Over U" and "Silly Girl," our fave Neon Hitch is about to serve up her flaming hot and much-anticipated new single "Bad Dog" that will be released later this summer. This banging new Neon tune will slam the door wide open to mainstream success and firmly put her in pole position to race up the charts.
Produced by her talented soundboard pal Benny Blanco, "Bad Dog" is a powerhouse tune that has all the makings of a massive hit that will have you wagging your tail the moment it hits.
Blanco's savvy production is dominated by a tight, slapping groove and an instantly catchy chorus that perfectly complement Neon's deliciously flirty lyrics. She purrs, "The beast inside of me put you down, bang bang, like a bad dog. You're just animal that I caught, come inside my cage, you bad dog!" 
Add to that hot mix the instantly infectious "oooh oooh" and "aaah aaah," and what you have is a dynamite brew of pop. Yeah, this sweet kitten is finally out of the bag and has a big bone to pick. Don't mess with her because you will end up in the dog house. Neon agrees and clarifies, "say a prayer, because this is it." True that. 
Check out a blazing dancefloor workout of "Bad Dog" that was produced by DiscoTech to get a taste of the song. DiscoTech's full-throttle number stays pretty close to the original but gives it a solid dancefloor punch. Go fetch this hotness!
July 13, 2011 in Benny Blanco, Neon Hitch | Permalink
[FIRST LISTEN] Maroon 5 feat. Christina Aguilera "Moves Like Jagger"
Leave it to producer Benny Blanco to whip up another crispy pop jam that will likely fly up the charts in no time. Check out his funky new pop confection "Moves Like Jagger" that he concocted for Maroon 5 and which features the divalicious vocals of none other than Adam Levine's new pal Christina Aguilera. 
Set to a carefree whistle with a punchy rhythm guitar and a thumping bass, it is a tight, feel-good summer tune with flirty lyrics like, "Maybe it is hard, nothing feels right, but when you are mine, I will make you believe. I've got the key, get in the car and drive wherever you want. Drive where you want to steer, but im shifting gears, I'll take it from here." (Also, check out this fun lyric video of the song.)
Time to get in your car, roll down the windows, crank up the speakers and move like Jagger, zig-zagging through traffic all summer long with this potent new pop collaboration. After Maroon 5's success with Rihanna in the summer of 2007 with "If I Never See You Face Again," this new ditty may once again have them flourish this season and proof mighty for the group. It's a sure-fire winner. (Download)
June 21, 2011 in Benny Blanco, Christina Aguilera, Maroon 5 | Permalink
Listen to Neon Hitch "Silly Girl" (Easy Does It Remix)
Kick your day into gear with this blazing hot remix of Neon Hitch's new single "Silly Girl" that was produced by the crafty soundboard wizards of Easy Does It. It's a fun and forward new interpretation of Neon's original track that comes with a fresh new dancehall meets electro twist. Big new sound for a big new artist. Loving this.
April 30, 2011 in Benny Blanco, Neon Hitch | Permalink
Listen to Neon Hitch "Silly Girl"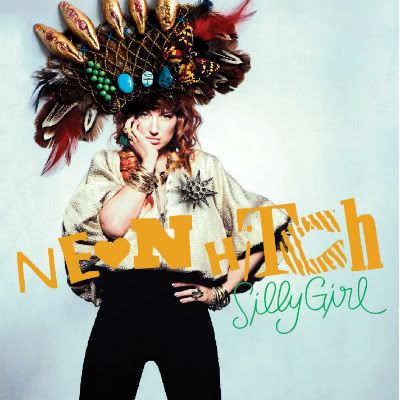 What I love about Neon Hitch is that she's not afraid to think outside of the box and try something different. After the bittersweet balladry of her debut single "Get Over U" (that Neon co-wrote with Sia), the adventurous pop star now takes her sound left field with her new single "Silly Girl" that premiered yesterday on Idolator.
Produced by Neon's capable soundboard pal Benny Blanco, "Silly Girl" is a flaming slice of high-grade, futuristic pop that Neon co-wrote with none other than Switch who previously wrote hits for Santigold, Bjork, Mika and Christina Aguilera. This new Neon track shows off once again that the pop chameleon is ready for the big time, perfectly mashing her fresh, confident delivery with potent, hip hop-tinged club beats.
April 26, 2011 in Benny Blanco, Neon Hitch | Permalink
Video: Arjan chats with Benny Blanco about Get Well Soon Tour
After producing global monster hits for people like Britney Spears, Ke$ha and Katy Perry, Benny Blanco is one of the most sought-after producers in pop music today. Blanco and his pal Dr Luke have forged a powerful creative partnership that has led to one mega hit after another, and they're not slowing down any time soon. Recently, Blanco has been working on new material for emerging pop sensation Neon Hitch, Maroon 5 and he produced "No Sleep" on Wiz Khalifa's debut LP.
But there's more to life than writing global smash hits.
Blanco helped co-found the Get Well Soon Tour, a hospital tour that aims to bring music to sick kids to brighten their day and lift their spirits. Over the next few months, the Get Well Soon Tour will organize small acoustic performances in Children's Hospitals around the country that will feature some of the biggest names in music. "It is one of the most rewarding things I've ever done in my life," Blanco tells me in an exclusive video interview. 
Blanco and I talk extensively about the Get Well Soon Tour, but he also chats a little about some of his role models, his early obsession with Prince, his special relationship with Dr Luke and his "crisp and tight" production style. Totally fun chat.
Make sure to follow @GetWellSoonTour on Twitter for updates about the hospital tour and to find our how you can help and contribute to this very important cause. Stay tuned right here for updates about the Get Well Soon Tour.
April 18, 2011 in Benny Blanco | Permalink