Sights & Sounds: Getting Free Wired in Downtown Los Angeles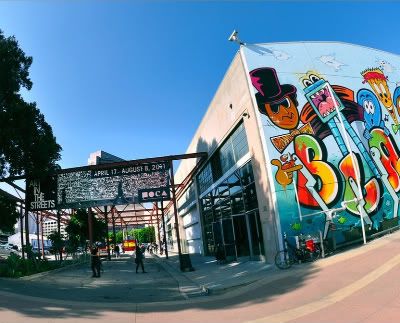 Downtown LA is free wired: Geffen Contemporary Museum
Before heading to Musexpo and speaking at the Worldwide Radio Summit last week, I spent some time in downtown Los Angeles to explore a part of the city that too often gets overlooked. My renewed interest in downtown Los Angeles was sparked by Far East Movement's "Free Wired," the group's debut record that was inspired by the group's downtown upbringing and friendship.
At times gritty, often breathtaking and always colorful, downtown Los Angeles stretches from Koreatown in the northwest to the concrete banks of the L.A. river in the east. The area lost some of its luster in past decades after its heyday in the 1920s, but in recent years it has gone through an urban renaissance with young hipsters, culture hustlers and other urban adventurers moving into the large loft spaces that can be found all over downtown.
The arrival of new museums, galleries, clubs and bars has helped accelerate downtown's resurgence, making it a perfect breeding ground for everything hot and happening. 
It's exactly that colorful urban spirit that Far East Movement's "Free Wired" taps into. The group's all-inclusive, free wired mashing of styles to create an edgy, yet mainstream-friendly aesthetic was inspired by their downtown upbringing and is now reflected in their music, look and artistic attitude. 
For my stay in downtown Los Angeles, I stayed at the Hilton Checkers, an excellent boutique style hotel right in the middle of downtown that I highly recommend if you are looking for comfortable and friendly lodging.
Stroll up the street from the Hilton to check out the magnificent LA Philharmonic's Walt Disney Concert Hall that was designed by architect Frank Gehry. I zigzagged through the quiet streets of Chinatown to the Moorish splendor of Union Station that is filled with transients from all over the country. From there, I walked down Alameda Street towards the vibrant Little Tokyo district on downtown's eastside.
An absolute must for pop culture fanatics is Little Tokyo's Geffen Contemporary at MOCA, a large modern art space that is currently hosting an exhibit about Arts In The Streets. Yes, even Geffen is feeling "free wired."
Far East Movement got wind of my downtown explorations and tweeted me some of their favorite hang outs, including Taco House 1, an authentic Mexican taco stand that serves a large menu of tasty tacos and burritos.
Right next door is La Cita where Far East Movement shot the video of "If Was You (OMG)." I can best describe the look of the bar as a folky Mex mix with a cool kitchy, disco twist. Amazing scene of people.
If you're ever visiting Los Angeles, I highly recommend you take some time to explore downtown Los Angeles. Discover downtown's bleeding edge and cultural innovations that I find frankly a whole lot more exciting than the city's regular tourist destinations. Get a head start by watching "Rocketeer (LA Dreamer)," a short film Far East Movement produced as an ode to their hometown.
A big thank you to Hilton Hotels for their hospitality and a jumpin' high-five to the guys of Far East Movement for pointing out some of the sites and giving me that "Free Wired" feeling.
May 10, 2011 in Arjan, Far East Movement, Sights & Sounds | Permalink
Watch Arjan's MTV O Music Awards Promo Video Talking About Robyn
Check out this special promo video I recorded for MTV in anticipation of the MTV O Music Awards, which airs this upcoming Thursday at 11 PM EDT live from Las Vegas. ArjanWrites.com is nominated for an MTV O Music Award in the Best Independent Music Blog category. In this MTV promo, I talk about Robyn who is nominated for an MTV O Music Award in the Most Innovative Video Category and more than deserves to win. Click play to find out why I think Robyn should be a winner.
Today at 4 PM EDT, MTV will be live streaming a panel with producer Jermaine Dupri, legendary music video director Wayne Isham, and music journalists Caryn Ganz (Yahoo Music) and Brenna Ehrlich (Mashable) where they will debate the MTV O Music Award nominees for the most innovative music video. Make sure to tune in. More news about the MTV O Music Awards in the next few days.
April 25, 2011 in Arjan, MTV, Robyn | Permalink
Cherrytree Pop Chop Minute with Arjan Writes: Chatting with Frankmusik
I'm thrilled to introduce some brand-new episodes of Cherrytree Pop Chop Minute with Arjan Writes that will air this week. Cherrytree Pop Chop Minute is a unique web show that I host and is produced in close partnership with Cherrytree Records. Each episode is no longer than 1 minute, which makes it perfect to share on Twitter, Facebook, or to watch on your mobile phone. This week, we will be airing new shows every day at 12 noon PDT, Monday thru Friday.
The Cherrytree Records team and I have filmed a bunch of new episodes earlier this month at South by Southwest in Austin, and we will be making all of those available during the next few weeks.
Today's new episode of Cherrytree Pop Chop Minute with Arjan Writes features none other than ArjanWrites.com fave Frankmusik. I spoke with Frank in his dressing room just moments after he came off stage performing some of his brand-new music at Perez Hilton's One Night In Austin event. (Read my review of that show here.)
One of the new songs he performed is his forthcoming new single "Do It In The A.M." that is also the title track from his new album that drops later this year. 
Frequent readers of ArjanWrites.com know that I have been been following Frankmusik for years and the singer has kindly kept me in the loop on his recording process to keep me posted throughout his journey. It was fantastic to see him rock it out on stage - bigger and bolder than ever before.
March 28, 2011 in Arjan, Cherrytree Records, Frankmusik | Permalink
Download Now: Get ArjanWrites.com iPhone App to Read Pop News, Stream Music, Watch Video Interviews
Exciting news! If you're an iPhone or iPad user, you can now keep up with all the lastest greatest on ArjanWrites.com with the brand-new, official ArjanWrites.com iPhone and iPad app. Read the lastest blog posts, stream guilt-free MP3 downloads, watch Arjan's candid video interviews and connect with Arjan on Twitter and Facebook right from your phone. Head to the iTunes App Store to download the ArjanWrites.com ad-free iPhone App now. Totally free! Available in iTunes stores worldwide.
March 23, 2011 in Arjan | Permalink
Pop Newcomers Sky Ferreira, Simon Curtis, Databoy, She's the Queen To Perform at SUPERFRAICHE Concert in New York City on April 1
I'm thrilled to announce that after my SUPERFRAICHE shows in Los Angeles and Atlanta, I'm taking my SUPERFRAICHE pop showcase back to New York City! On April 1, I have invited Sky Ferreira, Simon Curtis, Databoy and She's The Queen to perform at my SUPERFRAICHE show that will be held at the dramatic, multi-level Galapagos Art Space in DUMBO, Brooklyn. 
SUPERFRAICHE will be organized in conjunction with GUMBO one of the hottest dance parties in New York City that will follow SUPERFRAICHE. Get your dose of fresh new pop and then dance the night away. Get your tickets now.
Quick intro to some of these blazing fresh new pop acts you oughta know:
Sky Ferreira (link)
Confidence and charisma shine through the songs that 18-year-old New York based pop artist Sky Ferreira has been writing and recording for her upcoming Capitol Records debut.  The album is shaping up to be a sparkling collection of electronic pop tunes that combine lustrous melodies with spare and digitized productions by a host of hit-makers such as Bloodshy & Avant (Britney Spears/Kylie Minogue), Greg Kurstin and Dallas Austin.  Sky recently made Entertainment Weekly's "11 to Watch in 2011" list, is the new face of Calvin Klein's CK One global campaign, and can be seen in Tommy Hilfiger Denim commercials.  Her EP "AS IF!" will be released on March 22. 
Simon Curtis (link)
With over one million downloads of his debut album, "8Bit Heart," Simon Curtis has quickly become a force to be reckoned with in independent pop music.  He has single-handedly established himself as one of the pioneers of the new era of music industry and become, as MTV.com recently dubbed him, a true "internet sensation."  Simon has managed to captivate the blogosphere and leave his fans around the world in bated breath to see and hear what this former Nickelodeon star will bring them next. 
Databoy (link)
Databoy is Cameron Maxwell and Adam Bailey, a 22 year-old duo originally from Austin, TX, currently residing in New York City.  Since their premiere show during SXSW 2010, DATABOY has done numerous performances and showcases in Austin and New York.  In addition to writing all of their own material, DATABOY penned Kim Sozzi's (3 Billboard Dance #1′s) next single with Josh Harris (Seal, The Killers, Dangerous Muse) and are currently working with Cutfather (Kylie Minogue, The Wanted, Pussycat Dolls) and Enur ("Calabria") on their own material.  Their debut single, "Stupid," was released on February 22, 2011. 
She's the Queen (link)
She's the Queen is an electropop band currently based out of both New York City and Philadelphia.  The group was formed in 2009 and is composed of producer Drew Kuryloski and vocalist Emily White. Once beginning their serious recording as a group, the duo recorded in Drew's home studio above his garage.  The bands synth-heavy electro/dance rhythms and energetic performances have gained them a substantial global following.
Flyer after the jump.
March 10, 2011 in Arjan, Databoy, She's The Queen, Simon Curtis, Sky Ferreira, SUPERFRAICHE | Permalink