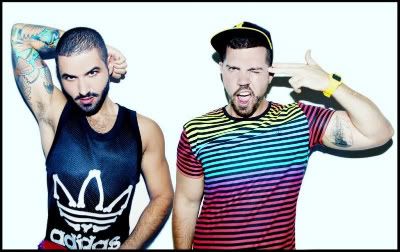 Garcon Garcon is a fresh new electro pop duo from Sydney, Australia who are stirring up the indie pop scene with their excellent debut single "Stay In Touch." Inspired by '80s synth pop and new wave, the group is the teaming of Nathan (vocals/guitars) and Nick (synth/programming) who combine meaningful, relatable songswriting, catchy melodies and a dose of spunky Aussie charm to craft their own peppy blend of forward pop.
"Stay In Touch" is a great example of their knack for songwriting. "The track is really a very personal break up song," Nathan writes me. "It documents the break down of a relationship. Feeling as though something isn't right, but hesitating to make a decision, not wanting to be alone. Questioning whether a relationship is ever perfect or if you need to compromise and work through your differences to make it work."
He adds, "The lyrics are quite serious for a dance song! We quite liked the contrast."
Son of Vader's lush, slow-churning revamp of "Stay In Touch" neatly nuances and accentuates the intensely personal story of love and letting go that is told in the song. Grab a totally guilt-free and exclusive MP3 of the remix. These two bad-ass Aussies are currently putting the final touches on their EP. Stay tuned for more details soon.

Garcon Garcon "Stay In Touch" (Son of Vader Remix)