« March 2011 | Main | May 2011 »
Listen to New Dev Single "In The Dark"
Most people will know Dev as the auto-tuned "popping bottles" voice behind the chorus of Far East Movement's chart-burner "Like A G6." But the L.A. based singer and emerging fashion icon has a whole lot more on her sleeves. And it is about time that people are starting to pay attention.
Only a couple of years ago she was a sales associate at local Bay Area Old Navy store, but after connecting with Cyrano and Campa of talented production duo The Cataracs on MySpace the three have forged an exciting new musical partnership. Together, they have been cranking out demo after demo to further finetune Dev's forward and futuristic new pop sound that is part dance, part electro mixed in with Dev's undeniable vocal seduction.
What makes Dev truly compelling is that she's an all-inclusive pop star who appeals to a wide variety of pop lovers. Guys want to hang with her and girls want to dress like her. And she's the belle of the party at Dinah Shore weekend in Palm Springs and the dance pop queen at a fratbunctious Spring Break party at South Padre island.
Now signed to Universal Republic, Dev and The Cataracs released "Bass Down Low" late last year that has firmly established Dev as bonafide new voice in pop to reckon with. The video for the song has received millions of views on YouTube and she continues to sell out venues around the country. Dev has also become an in-demand feature vocalist who recently has worked with people like 50 Cent, Timbaland, Travis Barker and David Guetta. 
Dev is now gearing up to release her new single "In The Dark" that is once again produced by The Cataracs. The song is a well-constructed, gleaming summer jam with a slow-burning groove that could easily take over dancefloors everywhere. Dev and The Cataracs will also be joining Usher, Akon and Tinie Tempah on the second leg of the OMG Tour that kicks off next week in Ft. Lauderdale. Listen to "In The Dark" in the player below.
April 22, 2011 in Dev, The Cataracs | Permalink
Video: Arjan chats with Porcelain Black
Some of the most fun interviews happen when you least expect them. Check out my impromptu video interview with Porcelain Black in the back of her tour bus. Porcelain is currently on tour with Lil Wayne and Nicki Minaj, and I caught up with her at a recent tour stop. 
The spunky Detroit singer is about to shake up the pop scene with her flaming brew of pop rock that is infused with a hefty dose of confidence. Her much-anticipated, RedOne-produced debut single "This Is What Rock 'N Roll Looks Like is a massive success online with millions of plays online. Porcelain played a few more tracks that she worked on with RedOne (including "Mannequin") and the material is dynamite. It's melodic, it's raw, it's pop, it's rock and it is unlike anything I've heard before.
Back to our little get together. I wasn't sure if I should actually publish this video interview because of the poor lighting and talking in the background (which is Yelawolf in the front of the bus), but the last 5 seconds of the interview pretty much sum up the very essence of Porcelain Black.
Yes, this is what rock 'n roll looks like, and I just had to share it. This new pop kitten cannot be tamed! (Pardon the expletives. Porcelain tells it like it is.)
April 21, 2011 in Porcelain Black, RedOne | Permalink
Listen to Frankmusik feat. Far East Movement "Do It In The AM"
Yes, ladies and gentlemen. The cat's out of the bag and there's nothing that can stop this mighty hit tune from happening.
Not only did we get a peek at the artwork for Frankmusik's new single "Do It In The AM" exclusively at CherrytreeRecords.com this morning, the full radio edit of the track plus a bunch of remixes have now been unleashed as well. And oh yes, it has been worth the wait. "Do It In The AM" is fingerlickin' good, so all you pop heads better get ready for a dose of sweetness.
Featured on the track are Frank's label mates Far East Movement who add some punchy rhymes to the song. As earlier indicated by the "The Fear Inside" and now again by "Do It In The AM," Frank's new "American pop" sound is a lot more compact and more tightly produced compared to his work on "Complete Me." But fear not. This new work is a signature slice of Frankmusik's brand of prog pop, featuring his pitch-perfect delivery, the Frank falsetto and his pop playfullness that make him a pop star unlike any other.
Co-written by Martin "Cherry Cherry Boom Boom" Kierszenbaum, "Do It In The AM" is as a massive summer jam with an instantly catchy and sparkly melodic hook. The line "A to the M and then we do it again" dominates the track and is a lyric to remember because you will be singing it along often in the months to come.
April 20, 2011 in Cherrytree Records, Far East Movement, Frankmusik | Permalink
Listen to The Stereotypes "Lego"
GRAMMY-nominated production trio The Stereotypes is once again heating up the scene with some exciting new music that comes along with some colorful, cheeky cover art. The Stereotypes' Jon, RayRo and Jeremy have their fingers tightly on the pulse of what's hot and happening in music today, combining distinct pop sensibilities with crisp hip hop grooves that is tightly produced and hyper-infectious. They're also some of the nicest guys in the business with a genuine love for music.
The L.A. based trio has crafted hits for artists like Danity Kane, Ne-Yo, Justin Bieber, Melanie Fiona, Natasha Bedingfield, Justin Bieber and Chris Brown. They have also been an instrumental part of the success of Far East Movement as executive producers of "Free Wired." They even cameo on "Girls On The Dancefloor," which is one of the most finely-produced cuts I've head in the last year (Pick up a good pair of headphones to hear every little sonic twist and turn on that track.)
But even tough The Stereotypes are passionate about writing and producing for other people, they have been eager to satisfy their creative urges to release their own artist material. And that moment has finally arrived this week.
The Stereotypes added MC Three to complete their line up as a band and they released their debut single single "Lego" on iTunes this week. Paced by a hypnotic, laid-back beat, "Lego" brings a whole lotta swagger and sexy to dancefloor that will get the party started the second it hits. This piece of "Lego" will snap right on. Guaranteed. 
Listen to the track right here. (Support new music and download "Lego" on iTunes.)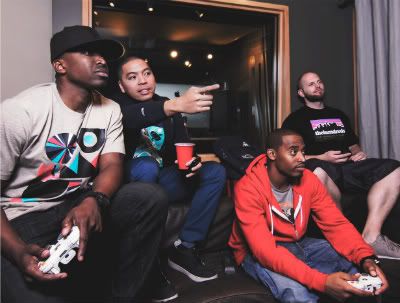 April 20, 2011 in The Stereotypes | Permalink
Watch New Martin Solveig ft Kele "Ready 2 Go" (with Dragonette Cameo)
After taking "Hello" to the top of the pop charts across Europe, French DJ/producer Martin Solveig is now gearing up to repeat that success with his new single "Ready 2 Go" that features the vocals of Bloc Party's Kele.
The commercial success of "Hello" has not only increased the profile of Solveig overseas, it also has introduced Dragonette's Martina Sorbora to a massive new audience who are now getting a taste of what Dragonette's pop goodness is all about.
After releasing fantastic music and touring across the globe (including my Atlanta SUPERFRAICHE last year), the Canadian pop outfit is finally getting the mainstream attention it deserves. Europe got into it first and with "Hello" hitting rotation on pop radio in New York and Los Angeles, the U.S. will soon follow.
For "Ready 2 Go," Solveig presents once again one of his hilarious mini films that not only features the relationship with his quirky manager, but also brings back Martina for some knitting action. Part of this episode of Smash was filmed two weeks ago at Paris' Stade de France in front of 81,000 people. Watch the video after the break. Super fun! 
So what should we expect from Solveig's album? The effort will include "Can't Stop," another dance pop collaboration between Solveig and Dragonette. Yes! Solveig has also recorded a track called "Turn Up The Radio" with Sunday Girl. They will be appearing together at Creamfields in Australia. Stay tuned for more details soon.
April 19, 2011 in Dragonette, Martin Solveig | Permalink