« March 2011 | Main | May 2011 »
Free MP3 Download: Purple Crush "Sweat"
Purple Crush sure is no stranger to crafting solid pop tunes. The L.A. based artist/production duo has been collaborating with people like Rob Fusari and Cathy Dennis on producing parts of their work. But the group is getting ready to spread their wings and fly above the radar with their groovy, electro-edged pop sound that is part '80s fun pop and part '90s glowstick house with a hefty dose of 2011 sizzle.
Check out the duo's brand-spanking new "Sweat" to get a taste of their pop hotness. It is a buzzing electro pop number with, yes, flaming guitars about getting wet on the dancefloor. Time to get the leg warmers out, roll up the sleeves and work it like it is 1981. Olivia Newton John asked you to get "Physical," Purple Crush simply wants you to "Sweat." Grab it while it's hot.

Purple Crush "Sweat"
April 26, 2011 in MP3 | Permalink
Listen to Neon Hitch "Silly Girl"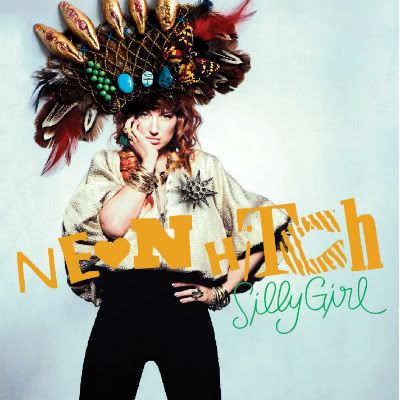 What I love about Neon Hitch is that she's not afraid to think outside of the box and try something different. After the bittersweet balladry of her debut single "Get Over U" (that Neon co-wrote with Sia), the adventurous pop star now takes her sound left field with her new single "Silly Girl" that premiered yesterday on Idolator.
Produced by Neon's capable soundboard pal Benny Blanco, "Silly Girl" is a flaming slice of high-grade, futuristic pop that Neon co-wrote with none other than Switch who previously wrote hits for Santigold, Bjork, Mika and Christina Aguilera. This new Neon track shows off once again that the pop chameleon is ready for the big time, perfectly mashing her fresh, confident delivery with potent, hip hop-tinged club beats.
April 26, 2011 in Benny Blanco, Neon Hitch | Permalink
Watch Arjan's MTV O Music Awards Promo Video Talking About Robyn
Check out this special promo video I recorded for MTV in anticipation of the MTV O Music Awards, which airs this upcoming Thursday at 11 PM EDT live from Las Vegas. ArjanWrites.com is nominated for an MTV O Music Award in the Best Independent Music Blog category. In this MTV promo, I talk about Robyn who is nominated for an MTV O Music Award in the Most Innovative Video Category and more than deserves to win. Click play to find out why I think Robyn should be a winner.
Today at 4 PM EDT, MTV will be live streaming a panel with producer Jermaine Dupri, legendary music video director Wayne Isham, and music journalists Caryn Ganz (Yahoo Music) and Brenna Ehrlich (Mashable) where they will debate the MTV O Music Award nominees for the most innovative music video. Make sure to tune in. More news about the MTV O Music Awards in the next few days.
April 25, 2011 in Arjan, MTV, Robyn | Permalink
Free MP3 Download: Ira Atari "Don't Wanna Miss You" (ULTRNX Remix)
After first popping onto the scene with the aptly-titled EP "Just Fu**ing Dance," emerging dance pop diva Ira Atari is now introducing us to her full-length album, "Shift." Released on the Hamburg's Audiolith Records, this new effort by Atari shows a little bit more of the finely tuned soulful dance pop that she's all about.
Lead track on the album is "Don't Wanna Miss You" that neatly fuses pop and soul, and shows Atari's skills at mastering the balancing act between club and songwriting, soul and dance. Like a press release outlines, "she evokes memories of the grand classic disco divas such as Donna Summer und Gloria Gaynor" but with a modern-day touch. Check out a totally guilt-free download of ULTRNX's grinding remix of "Don't Wanna Miss You" and learn more about Ira Atari on her web site.

Ira Atari "Don't Wanna Miss You" (ULTRNX Remix)
April 25, 2011 in MP3 | Permalink
Strange Talk Releases Debut EP - Listen to "Eskimo Boy"
Following the success of bands like Phoenix, Friendly Fires and Two Door Cinema Club, Strange Talk is one of the hottest new indie pop acts to keep your eye on this year. The Australian outfit uniquely pairs considerable musical talents from disparate backgrounds – with vocalist/producer Stephen Docker immersed in the classical world a former violinist for the Australian Youth Orchestra and bassist Gerard Sidhu as a regular fixture on the Melbourne DJ circuit crafting banging house beats.
As a group, Strange Talk speaks a musical language that is as diverse, yet as accomplished as their previous experiences. The group is releasing their much-anticipated self-titled EP on the hip Neon Gold label next week.
The disc includes tracks like "Is It Real," "We Can Pretend" and "Climbing Walls," a shimmering synth tune that I posted a while back. One of my favorite tracks on the EP is "Eskimo Boy" that shines as the group's flagship anthem with its churning synths, heavy bassline and a bit of that Down Under electro touch thrown in for good measure. Potent pop. Highly recommended.
April 25, 2011 | Permalink