« February 2011 | Main | April 2011 »
Watch New Erik Hassle Video "Are You Leaving"
It's been a while since we've heard from him, but let's make sure not to forget about Erik Hassle. In fact, the Swedish singer has been holed up in a studio for the past few months to write and record material for his new album.
And the first result of his hard work has arrived. Check out the video for his brand-new single "Are You Leaving," which is taken from his pre-album EP, titled "Mariefred Sessions."
"Are You Leaving" gives us a bit of a taste of what direction Hassle is heading musically. Set to a punctuating beat and wrapped in a fresh electro-edged production arrangement, the song is a melancholic, sweet-flavored mid-tempo pop ballad that accentuates Hassle's knack for delivering catchy, melodic hooks.
Hassle shot the video for "Are You Leaving" together with Johannes Ring in his howetown of Katrineholm. "It was just me and Johannes, we made it on a Saturday night," Hassle writes. "There are 21000 lonely souls living there and this is a typical Saturday night. The song is about growing up and then leaving a small town, we hope that we captured this in the video." (Support new pop and download "Are You Leaving" on Erik's web site.)
March 31, 2011 in Erik Hassle | Permalink
Counting Down to SUPERFRAICHE Concert In New York Tomorrow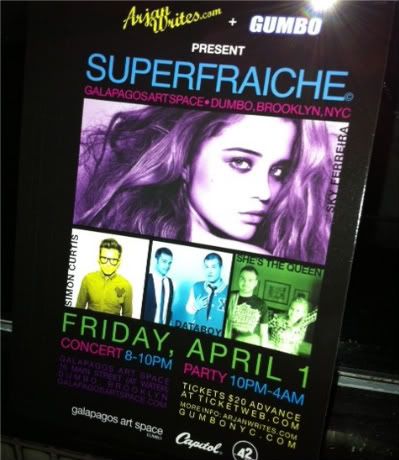 Look what has been spotted all over New York City this week! The SUPERFRAICHE concert is now only a day away, and Sky Ferreira, Simon Curtis, Databoy and She's The Queen are putting the final touches on their shows. It's gearing up to be a great night of fresh new pop with a lot of special guests who will be attending. Tickets are going fast. Get yours today! (Make sure to say hello when you see me! Thank you to Choosy Nomad for shooting that pic last night.)
March 31, 2011 | Permalink
Cherrytree Pop Chop Minute with Arjan Writes: Chatting with The Good Natured
At South by Southwest, I caught up with British pop group The Good Natured who has just released their brand-new single "Wolves" on Regal/Parlophone in Europe. "Wolves" is a fantastic driving dance track written by the group's 20-year-old frontwoman, Londoner Sarah McIntosh, and produced by the band and Patrik Berger, known for his work with Robyn. Listen to "Wolves" in the player below.
In this brand-new Cherrytree Pop Chop Minute, Sarah and I chat a little bit more about working with Patrick Berger and the feeling of "escapism," which is the deeper underlying theme of new single "Wolves."
"Wolves" will be added as a bonus track to the "Be My Animal" EP that is out in the U.K. now, and has received praise praised by the likes of The Sunday Times, NME and Q magazine and championed by BBC Radio 1, Radio 6 and XFM, among others.
Stay tuned for new episodes of Cherry Pop Chop Minute with some very special guests today and tomorrow at 12 noon PDT.
March 31, 2011 in Cherrytree Records, The Good Natured | Permalink
Free MP3 Download: She's The Queen "Waiting Game"
SUPERFRAICHE is only days away and I'm getting ready to head to New York to host the show and meet all of you New Yorkers at Galapagos Art Space on Friday. It will be a memorable event that features Sky Ferreira, Simon Curtis, Databoy and She's The Queen.
To celebrate their appearance at SUPERFRAICHE, She's The Queen is sharing a brand-new version of "Waiting Game" that is taken from their forthcoming EP. Love this version of the song. They have an incredible knack for crafting intensely melodic, atmospheric synth pop. "Waiting Game" is perfect proof of that. Crisp and sparkly with just the right amount of gloss.
Emily and Andrew are massive fans of Ellie Goulding, and I think her producer Starsmith would be very impressed by this tune. Make sure to get your tickets for SUPERFRAICHE as soon as possible. They're going fast. (Big ups to my Atlanta pal Phillip Martell for introducing me to She's The Queen.)

She's The Queen "Waiting Game"
March 30, 2011 | Permalink
Listen to John Legend "Rolling In The Deep" (Skeet Skeet & Turbotito Remix)
Adele's "Rolling In The Deep" is one of the best songs of the year so far. And I have no doubt that this track will be up for a couple of golden statues (at least) at next year's GRAMMY Awards. In fact, the song and Adele's chart-topping album "21" have propelled the British songer to a new level of stardom that she more than deserves. 
John Legend covered Adele's original version of "Rolling In The Deep" and shared the acapella of his performance with a few select remixers to create a new twist on Adele's original. Pretty gutsy move by John, but his version stands very solid on his own.
Check out an excellent remix produced by DJ Skeet Skeet together with Turbotito who turn John Legend's cover of Adele's propulsive ballad into a slow-churning soul sensation that will have you rolling along the moment it hits. Highly recommended. (Download in player below or right here.)
Skeet Skeet is bringing more heat in the months to come. He is currently on tour with none other than Katy Perry while working on his own artist album that includes collaborations with, yes, The Cataracs, Christian TV, Donnis, Bonde Do Role and Madi Diaz. Also, check out "Stand Back," a flaming Stevie Nicks cover he collaborated on with SUPERFRAICHE performer Sky Ferreira.
March 30, 2011 in Adele, DJ Skeet Skeet, John Legend | Permalink